When it comes to decorating, books are my best friend. They can be used to add height, texture, dimension and color.  Whether they are antique books, vintage books or even new books, they also add an element of intrigue and sophistication to your space.
Books also make a room feel really cozy. I'm not sure what it is, but when I see a stack of books next to a chair, I just want to cuddle up under a blanket and get to reading!
Plus, they are inexpensive if you're looking in the right place. I find library sales and estate sales to be great places to get books for decorating at the best prices. Sometimes thrift stores will have a good book or two, but I usually have better luck getting books for crafts at thrift stores. If crafting is your game, take a quick read of my rules to follow when selecting books for crafts. 
But now, back to books for decorating your space. I've been using books to decorate since my very first apartment and I've learned a few tricks along the way.
Like I mentioned earlier, books can make for some really inexpensive decor. So, it isn't surprising that I used them in my college apartment. I kept a small stack of antique books on my nightstand. The top book had the prettiest cover with a very appropriate title - "Dreams." This brings me to my first tip - never pass up a book with a pretty cover and a good title.
How sweet is this little book?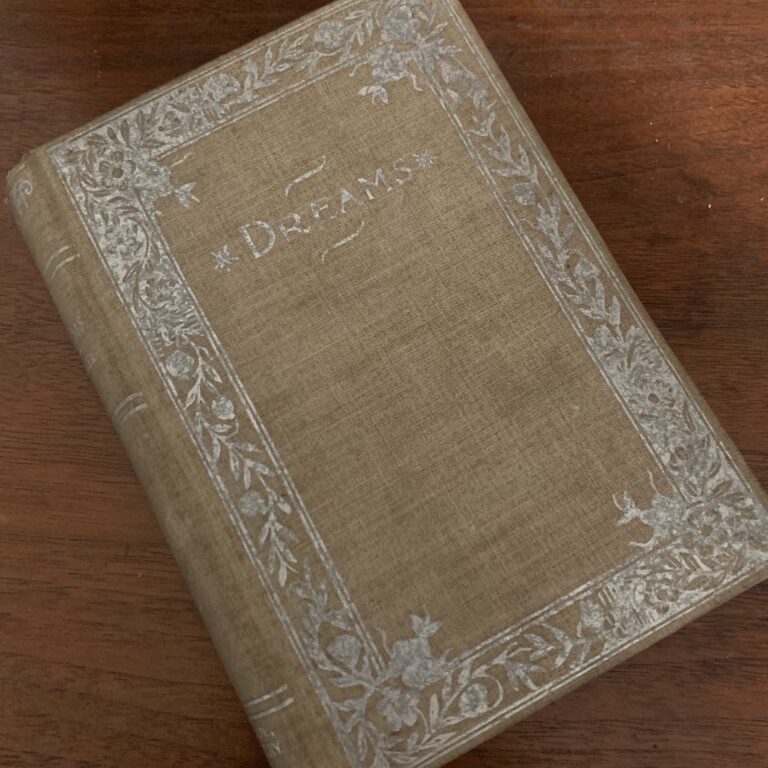 Don't just look for good titles - look for quirky ones too. And then get creative with how to use them.
I recently picked up a copy of "The Greek Coffin Mystery" to add to my Halloween decor. The cover was bright green - not great for Halloween. However, the pages were perfectly aged and the title was on top of every page, making it a great book to display open. And yes, I fully intend to read this book and find out the whole story behind the Greek coffin. #NERDALERT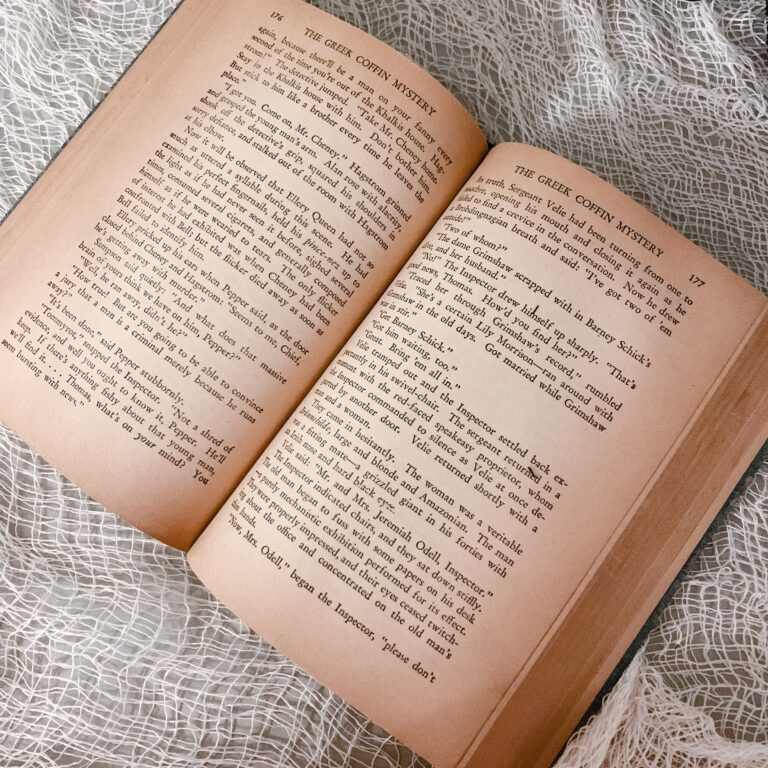 While a quick glance at titles and covers will get you some good finds, my next tip is to always take a peek inside the book. I think there's even a popular saying about this - something about the cover of a book and judging it. Oh yeah, "never judge a book by its cover." While this wasn't meant literally, in this case, it should be taken literally.
You never know what you might find when you open up a book!
Since my husband and I got married in a library, I spent all ten months of our engagement looking for good books to use. My sister picked up a sweet little book at a library sale titled "Masterpieces of Humor;" which wasn't ideal for a wedding. The cover was a plain, dark red and wasn't much to look at. But when I opened it up, the chapter titled "The Love Letters of Smith" made this book absolutely perfect to use for my wedding since I was marrying into the Smith family.
I mean, come on, how perfect is this photo of our wedding rings on top of the open book? #NAILEDIT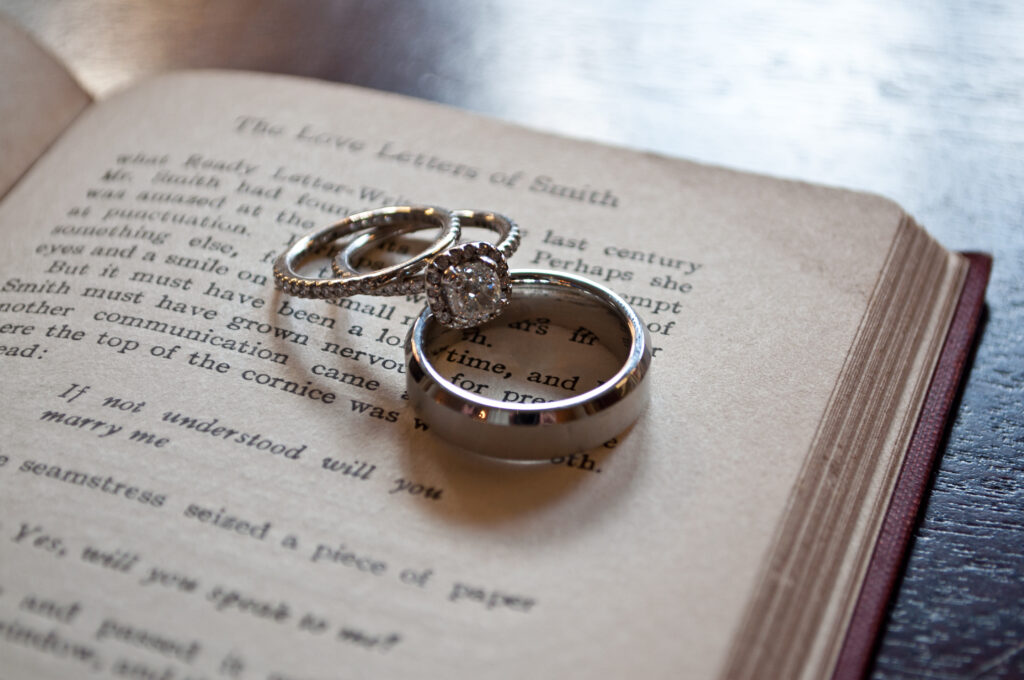 My final tip for picking books to display is to pay attention to color. If you are looking to incorporate a pop of color, books can bring it! One of my favorite things about vintage books are their bright colors. But, it can be overwhelming to go into an estate sale, see several shelves of unorganized books and focus in on one color. So many books, so little organization.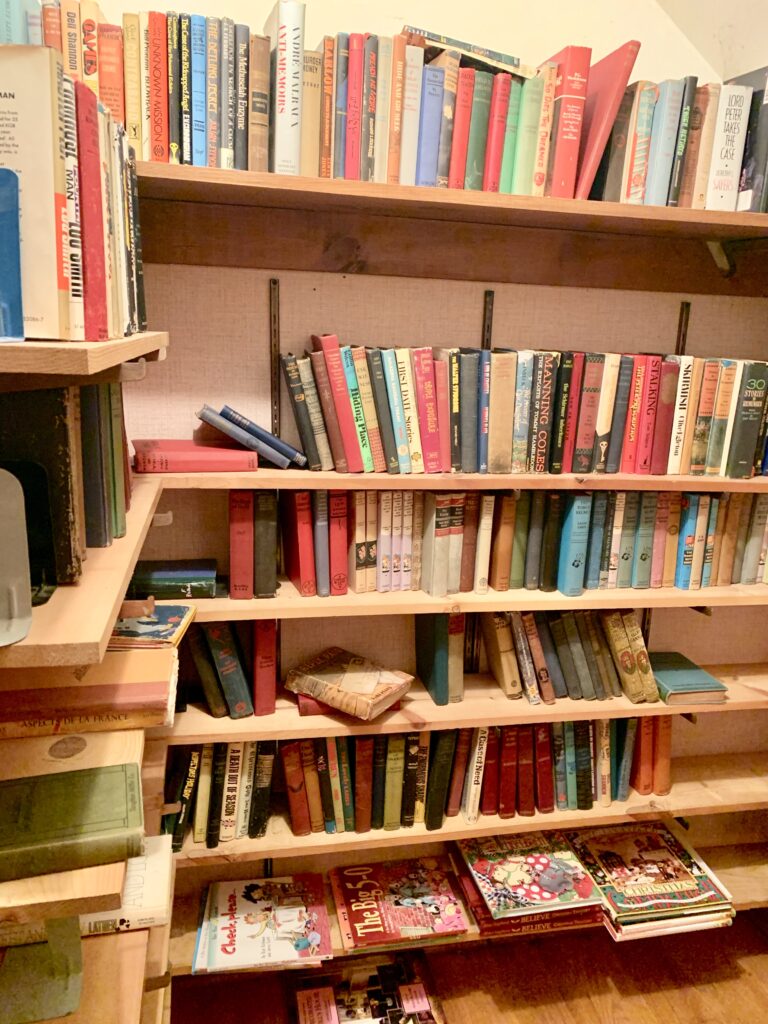 Once I take a quick scan of the inventory, I usually pull a few and start grouping by color. This narrows my focus and helps to visualize a potential stack I might want to take home. Reds, blues, greens and yellows are the most common colors you'll come across.
Check out these fun teal books.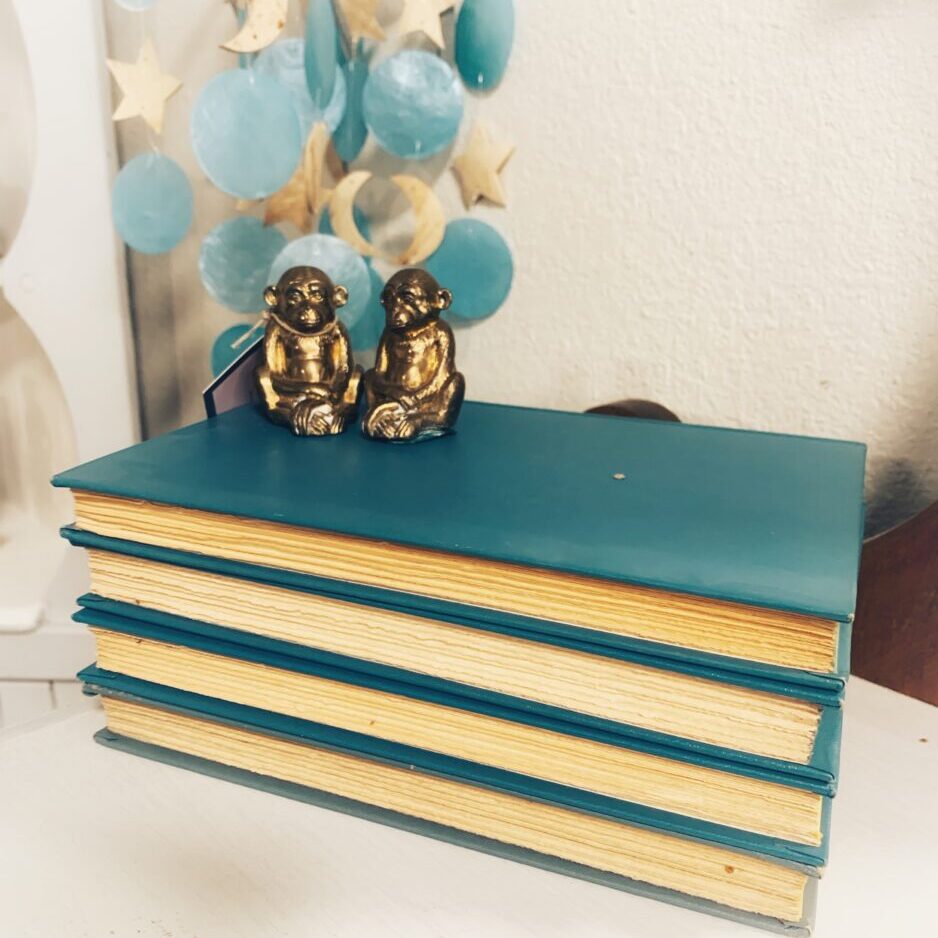 And you can never go wrong with a pop of red!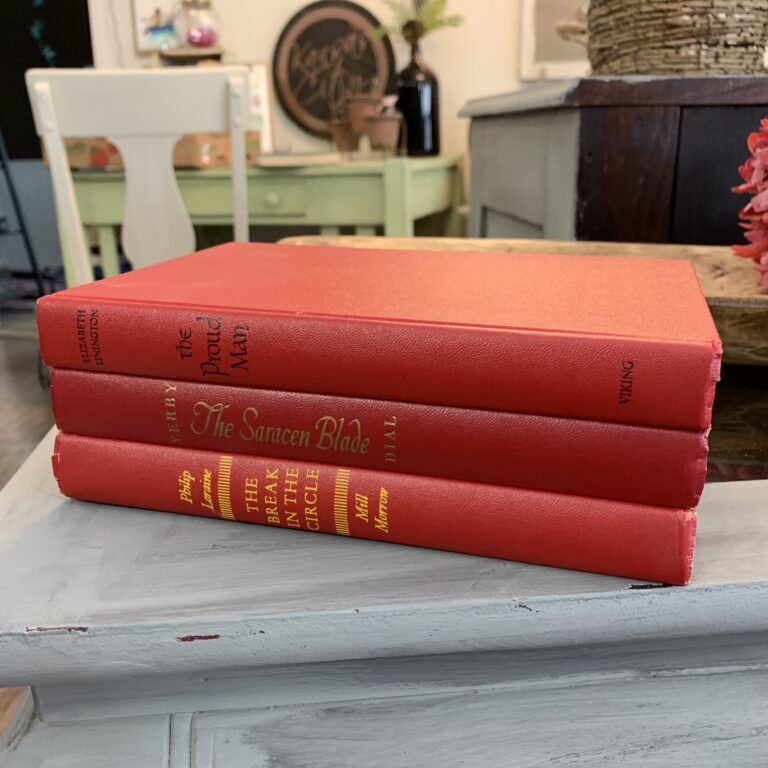 Sometimes you have to look closely because some really colorful covers might be hidden behind a jacket. I see this a lot with Reader's Digest books; which happen to have amazing colors and patterns. These books with their swirl and fern pattterns were both hidden behind boring white and red jackets.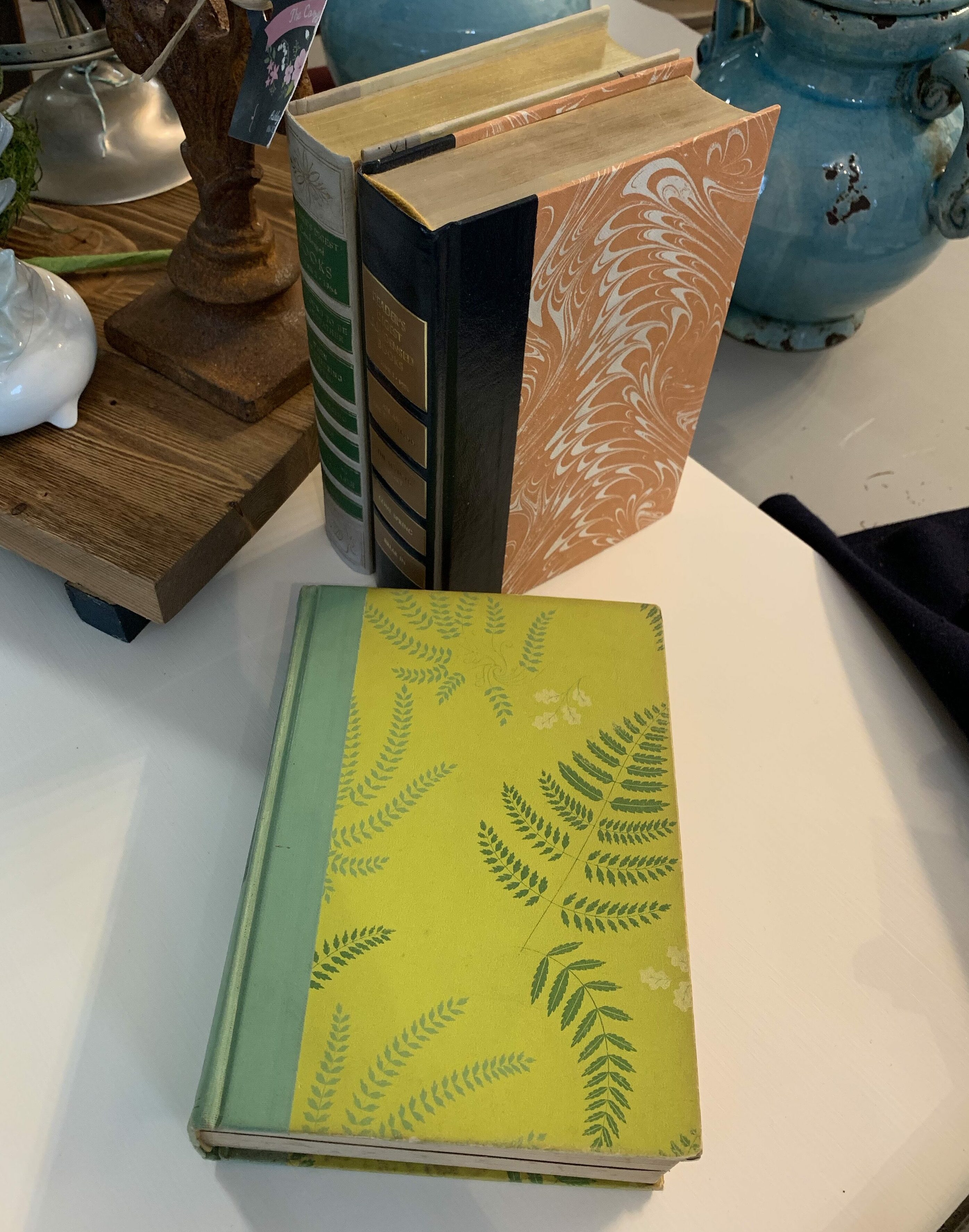 If you have a little patience and look in the right place, you will no doubt find some gems that will be perfect for decorating your space. And, you might even find a new favorite read!
Happy picking!
Picking the perfect books to decorate your space