Spring has sprung and with that comes SPRING CLEANING! I'm not going to bore you with information about my favorite window cleaner (Sprayway) or tell you how much I love my Norwex cloths. Nope, this is all about other people cleaning out their houses and how much joy I get loading up their junk from the curb.
In our neighborhood they have a repurpose day. I love this idea because the whole point is to haul stuff to the curb that you don't want anymore, but that could still be repurposed for use in someone else's home. It keeps things out of the trash and gives junkers like me something to do on the weekend. We also have a heavy trash pick up day; which is still exciting, but takes a little more work on my part to find the diamonds in the rough.
One year after we had done the loop around our neighborhood, I had about two trunk loads full of good stuff! We're talking stools, a coffee table, several shutters, windows, a super cool piece of scaffolding that was later turned into a table and some other random things.
Didn't this scaffolding table turn out cool? The best part is you can extend it. I wanted to keep it for a dessert buffet, but I don't have very many dessert parties and just couldn't justify it.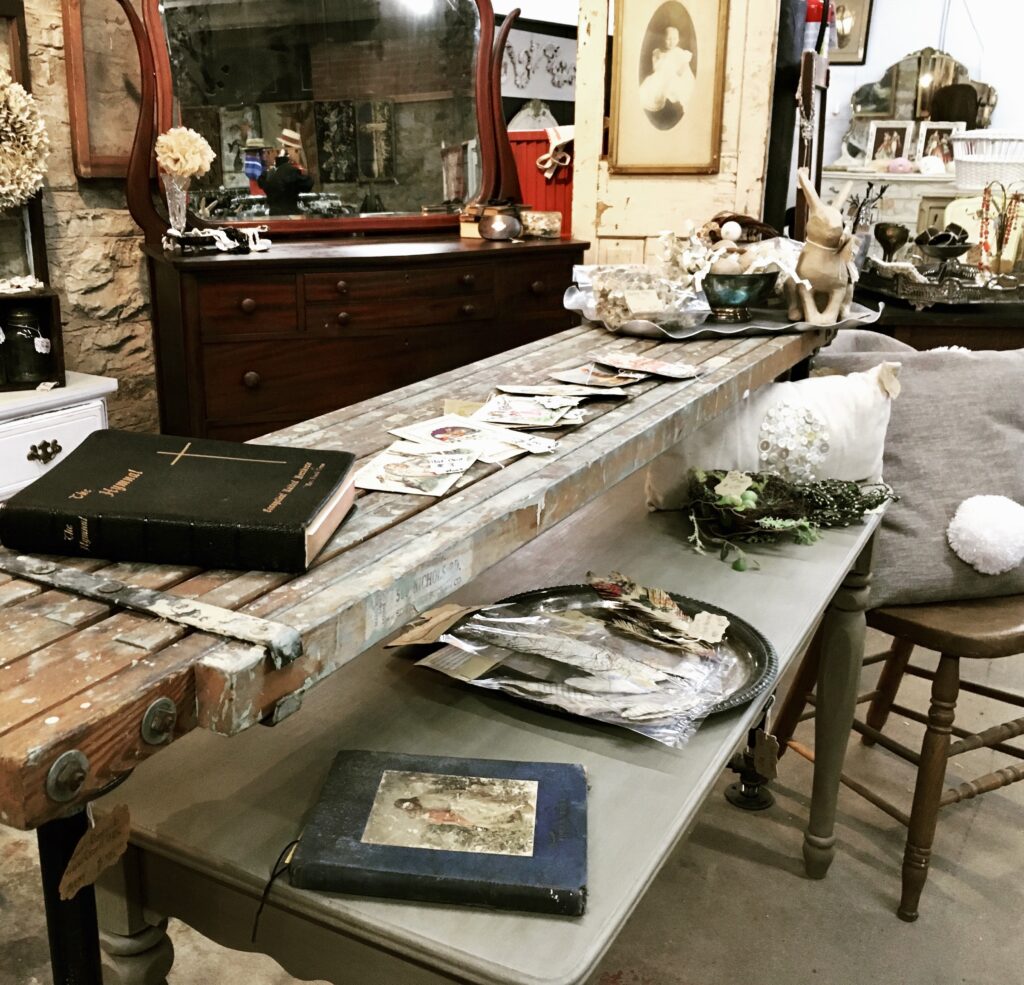 So far, I was pleased with myself. Most of my haul could fit comfortably in the unfinished storage of my basement, so I wasn't losing my garage space to storing junk. I really don't mind that, but it drives my husband crazy, so I try to keep it clear.
Even though I had a nice haul, I decided to check the Next Door app just to make sure nobody had posted any really good junk that I needed to retrieve before I took a nap. I lucked out BIG TIME. A neighbor had hauled his junk to the curb, but nobody was driving by his house because his road was under construction and it was only open to through traffic. This meant my only competition was his six neighbors in the culd de sac and anyone who had seen the post on Next Door and was interested in what he had at his curb. I was VERY interested in his curbside treasures. He didn't list what it was, but it looked like a giant wagon wheel. I've always needed a giant wagon wheel so I yelled at Todd and told him to look alive because we needed to get over there ASAP. The post had been up for over an hour. I was an hour behind the competition. We needed to MOVE.
As we drove up to the house, I could hardly contain myself. It wasn't just a wagon wheel, it was a wagon wheel TABLE! And, it had a glass top that was in perfect condition. What was wrong with this guy? Why was he hauling this thing to the curb like it was a piece of trash? Turns out there was nothing wrong with him. He was a super nice guy who came out and helped us load it into the car. I was a little sad because he told us that it was his great grandpa's. I did try to talk him into keeping it, but I think his wife would have killed both of us.
As we loaded the table, we hit a little snag - it was too big for the Honda Element. There was no way it was going to fit, but I was NOT going to give up on it and just leave it on the curb. Instead, I got in the back of the element, used a few bungee cords to secure myself in and I held onto that puppy for dear life. Both the owner and Todd thought it was a terrible idea, but I was feeling unstoppable in my tie dyed shirt and they couldn't talk me out of it.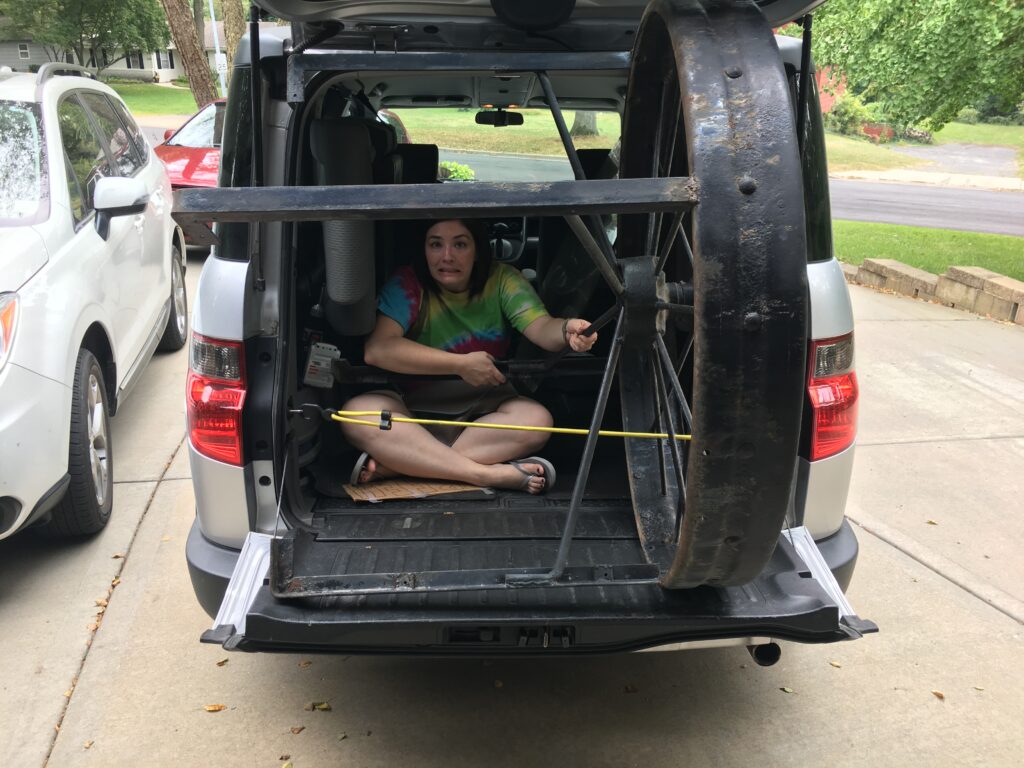 Luckily, we were only 15 blocks away from our house and we were able to stay off the main roads. There were a few uphill legs on our journey that gave me slight heart palpitations, but we made it!
I treated the minor rust spots, cleaned the glass with Sprayway (oops…I promised I wouldn't talk about my favorite glass cleaner) and it was ready to hit the shop floor. This time we borrowed a truck since we had to take the highway.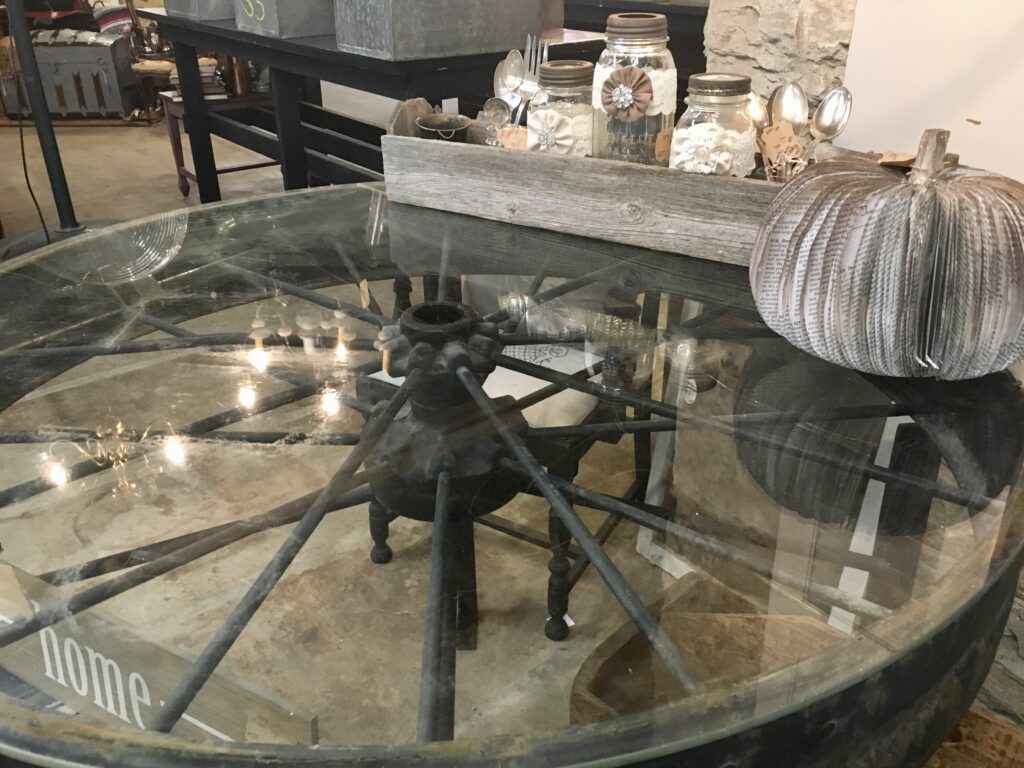 For the record, Todd is now the proud owner of a truck and a bed extender (yes, the bed extender was a selfish gift from me), so we can now lawfully haul most anything I find on the curb. This spring I'm ready to hit all the repurpose and heavy trash pick up days!
Spring cleaning and curbside treasures