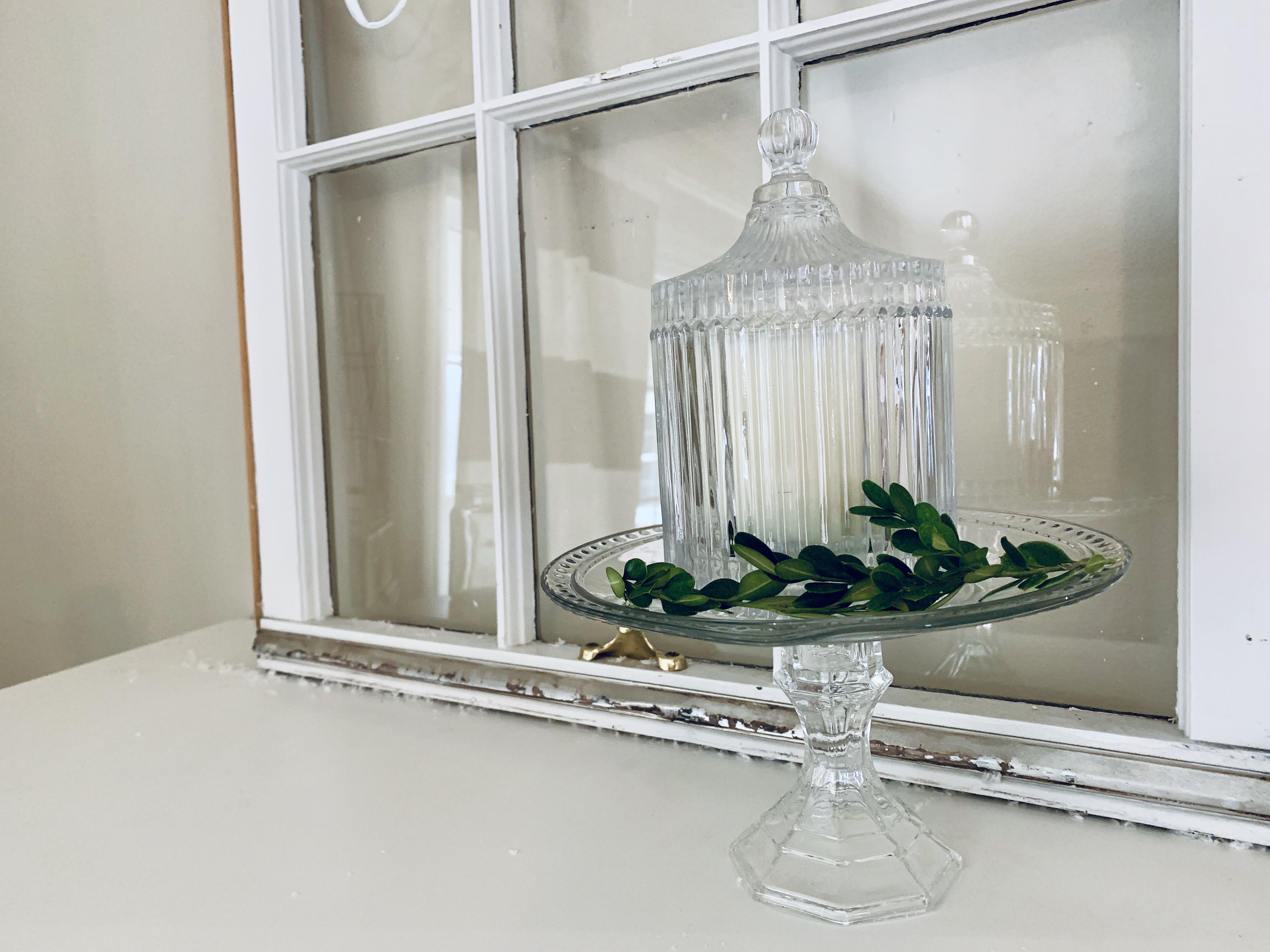 I love cake plates. They instantly add height and make the ordinary look super fancy. They are great for serving cakes, pies, cookies and even donuts (I absolutely wowed my cousins by creating a giant stack of donuts for brunch). Now let's think beyond sweets. I know, it's hard to stop thinking about donuts.
Here's a list of the top 7 things I like to display on cake plates.
Candles - the ambiance of the flame and the scent of the candle make rooms feel warm. Instead of just tucking your candle away on a side table, put it front and center on a small cake plate. Add some floral accents or a few trinkets with the candle and you have an instant center piece.

Holiday decor - add a little fake snow on the cake plate and a few seasonal decorations. BOOM - ready for Christmas. Switch it up with some easter grass and eggs. BOOM - ready for easter.

Jewelry - if you're like me, you have a few go-to jewelry pieces that you wear most of the time. For me, it's sterling silver ball studs, an S initial necklace and a monogramed bracelet. I switch out the silver with some pearl studs once or twice a week. Instead of putting these in my jewelry cabinet every night, I use a small cake plate on my bathroom counter. It serves as a piece of functional decoration that keeps my go-to pieces super handy. I'm not a morning person, so having everything within reach in the same room is key to getting out the door in time.

Soap and lotion - my guest bathroom looks so fancy with my soap and lotion high up on a cake plate.

Fruit - I have one of those super clever banana hangers under my kitchen cabinets. In order to use the space under it, I put a small cake plate and store my apples and clementines right under my bananas.

Plants - there is nothing more beautiful than a plant that is trailing down from a pot. Cake plates are a great way to give your trailing succulents and house plants room to grow.

Dining table necessities - Table space is often hard to come by when entertaining. I put the salt, pepper, extra napkins, butter and any other condiments on a cake plate in the center of the table. Guests can easily reach it and it takes up a fraction of the table space.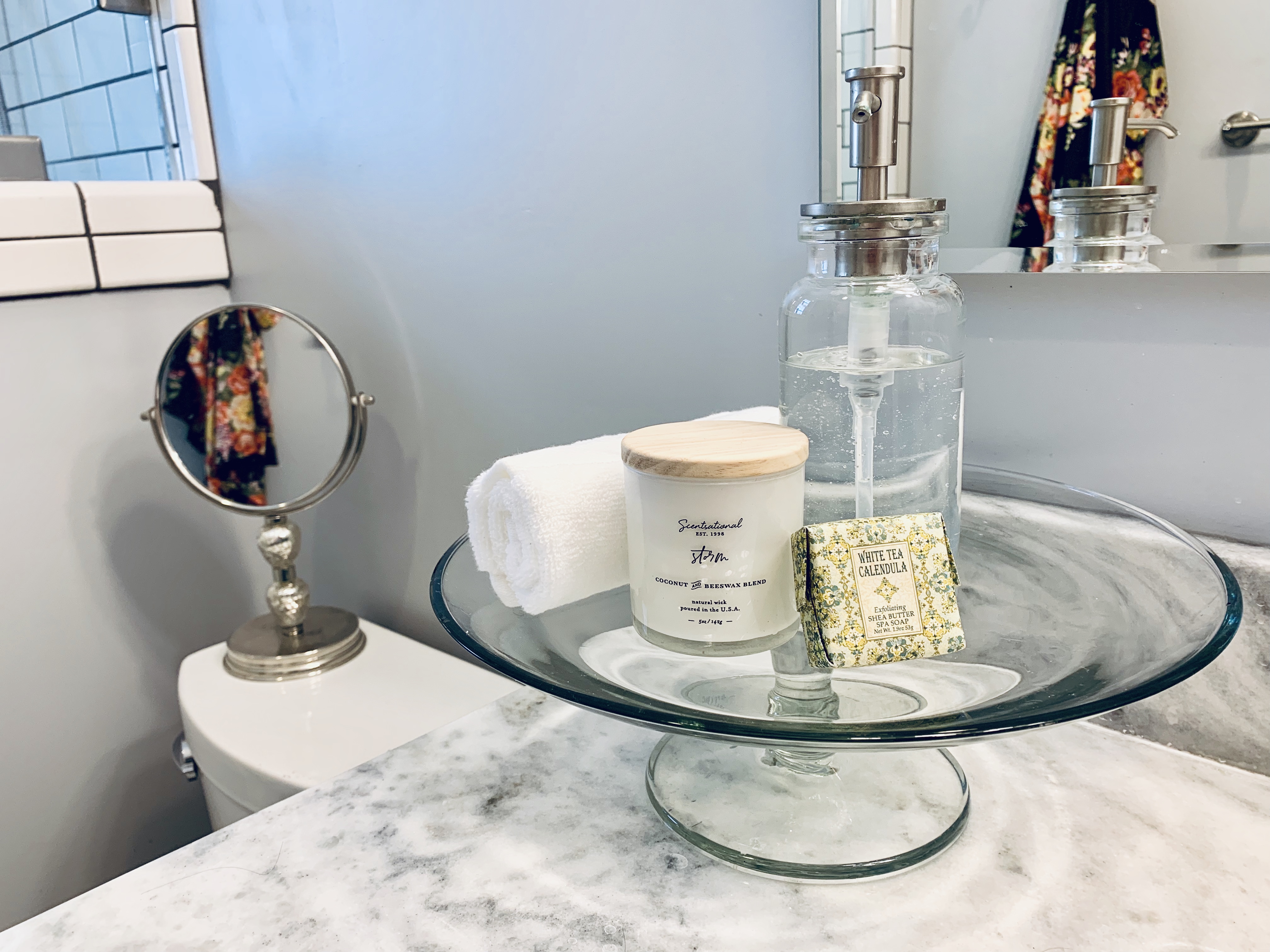 To take fancy up a level, combine cake plates. Different sizes, heights and styles add visual interest and look great when grouped together for one main centerpiece.
Here's an example for your dining room table:
Large cake plate with napkins and a skinny vase with flowers for extra height

Medium cake plate with a candle and floral clippings

Small cake plate with salt & pepper
If you don't have a hoard of cake plates like me, you can easily make them by using dollar tree candle sticks and plates. Here's an example of one I made (note - I splurged on this one and used a hobnail rimmed plate from Wal-Mart that was around $2.50. Still, less than $5 is a great price for a cake plate). I did about 20 of these for my wedding and found E6000 to work great for adhering the glass candlestick to the glass plate. You can also pick up interesting pieces at estate sales and thrift stores for some variety.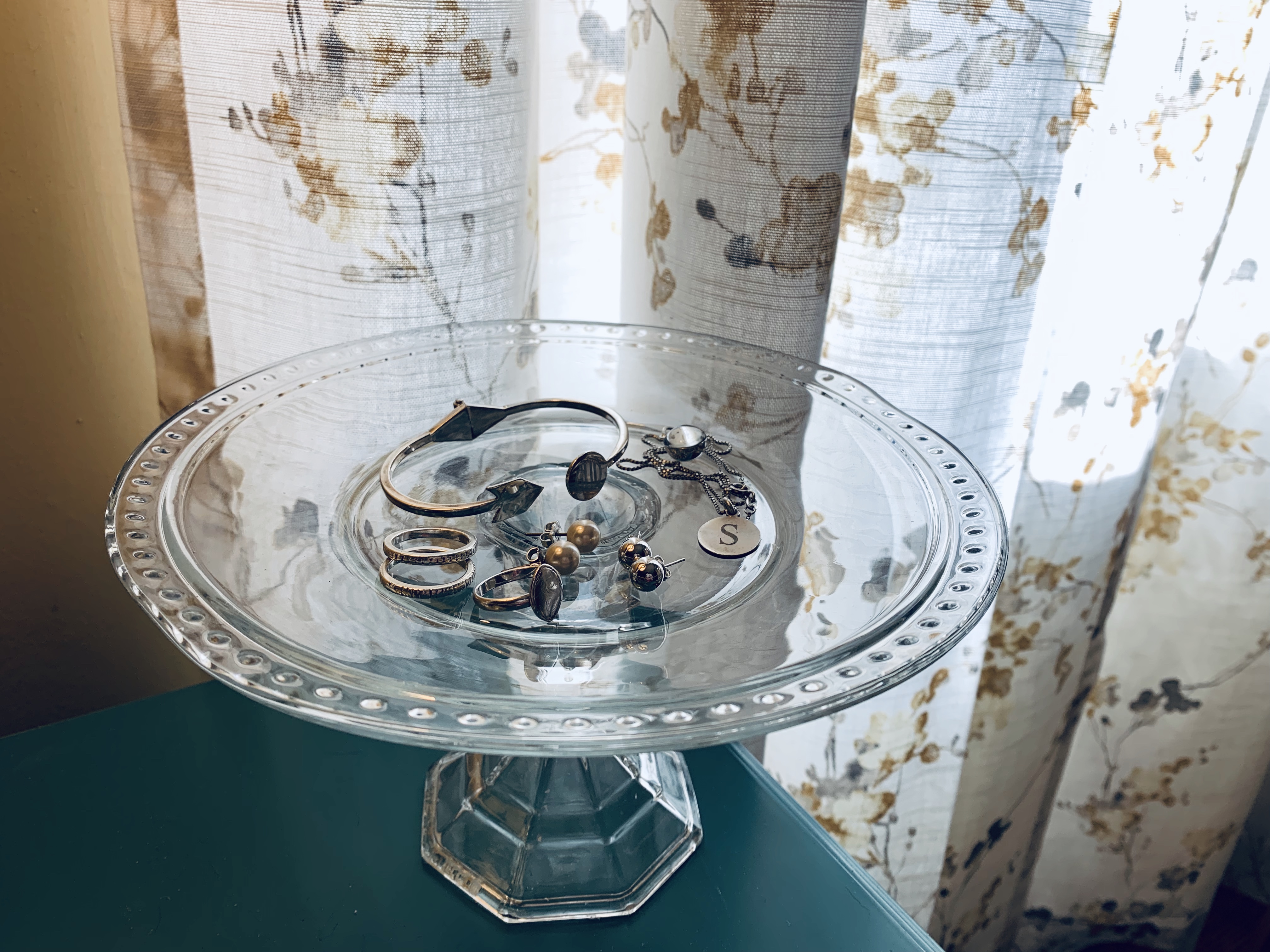 Cake plates make everything fancy