Think outside the roll or bag when it comes to wrapping. Doilies make a cute alternative to traditional wrapping.
Every year, I come up with a theme for my Christmas wrapping. Last year, I wrapped everything in Christmas carols. I've used book pages. I even painted gifts one year. I would not recommend it.
However, I would highly recommend my latest obsession - wrapping with doilies. In this blog, I'll share how to get started and four techniques to incorporate vintage doilies in your gift wrapping.
I came up with the idea while I was thrifting with my mom. She found a bag of doilies for $2 at ScrapsKC and my wheels started turning. As soon as we got home, I grabbed a gift and set to work. This was the first gift I wrapped and I was so pleased with how it came out. Isn't it adorable?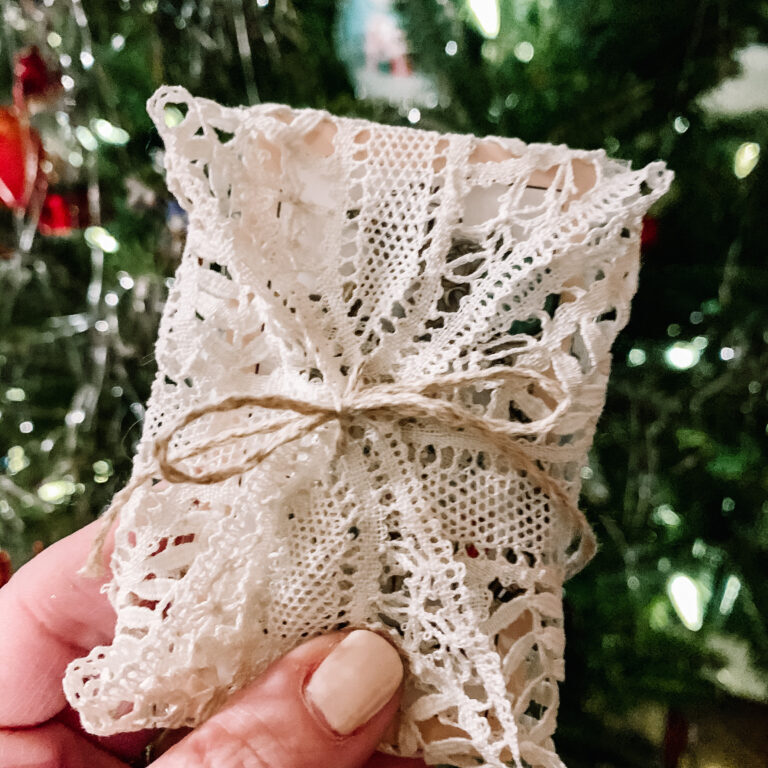 I was on a creative high and couldn't wait to start on my other gifts. I didn't take the time to logically think about how difficult this would be for larger gifts. In retrospect, I should have bought everyone gift cards. But that didn't stop me. I kept the creativity rolling and figured out how to make doily wrapping work for all my gifts, regardless of size.
To get started, you'll need a few things:
Doilies (duh)
Kraft paper or wrapping paper (I used this as the base for each gift since doilies are see through)
Tape
Jute or ribbon
Picking out the doilies is fun, but takes a little hunting. Luckily, I had a nice stash of vintage doilies that I saved from the donate pile when we were cleaning out my grandma's house. If you don't already have doilies, estate sales are one of the best places to find them. Regular thrift stores can be a little hit or miss in the doily department. In Kansas City, ScrapsKC usually has them at great prices.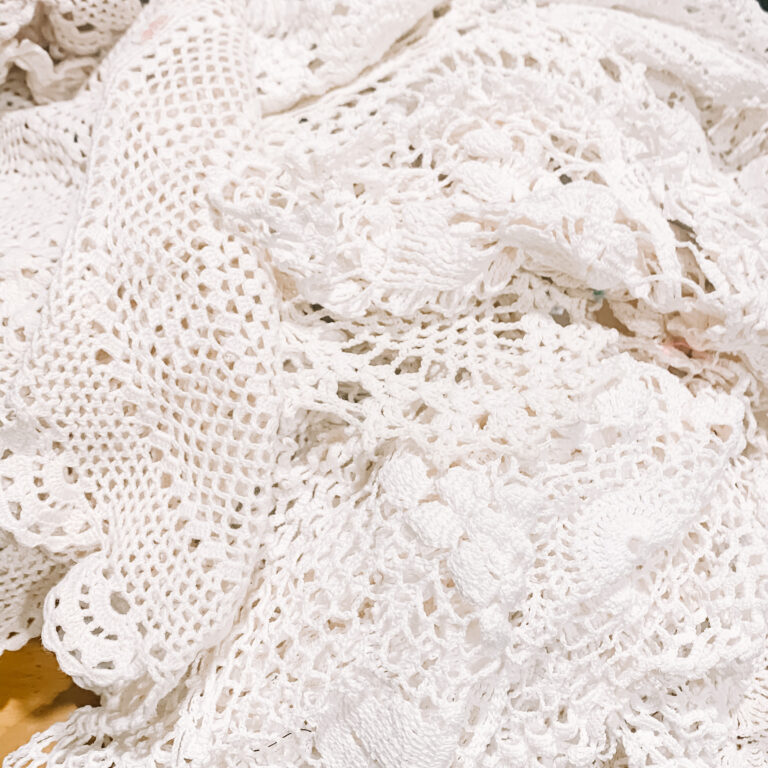 Once you've gathered all your supplies, it's time to get wrapping! Remember, you'll need to wrap your gifts in your base paper if you don't want the package visible.
Four techniques to wrap packages with doilies
1. The full wrap
The first technique is quick and easy. It's a full wrap of the package. You simply find a doily that is large enough to wrap the entire box. Start with two opposite sides and gather at the front and center of your package. Then gather the two opposite ends. I used a small piece of jute to tie around the excess at the top. The excess makes a cute little doily poof that mimics a bow.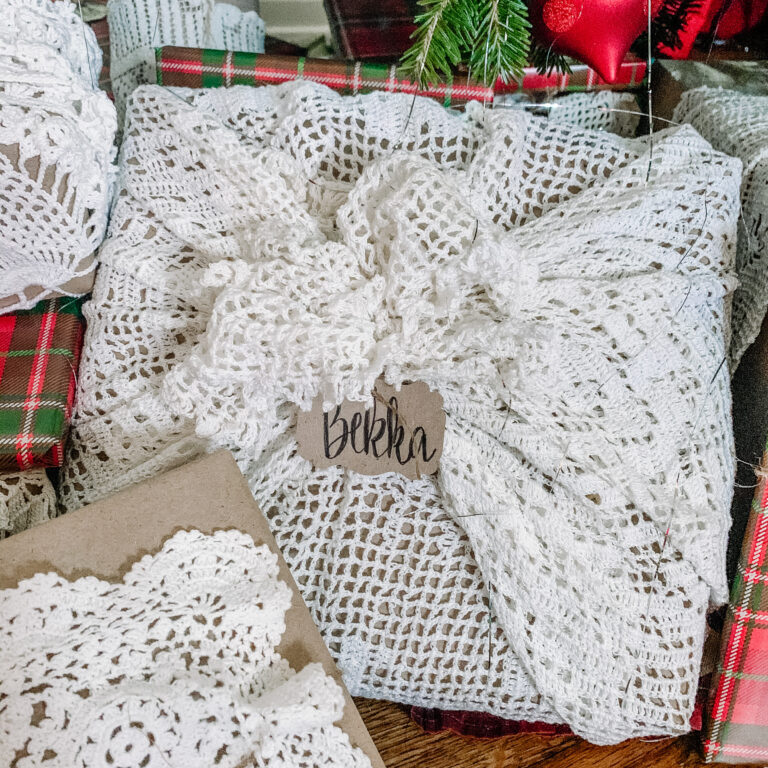 2. The partial wrap
The second technique might be the easiest. I used it for my larger packages where a full wrap would have required a very large doily. I actually really liked this technique because it helped break up all the whites and creams. This is so easy, I don't think I need to provide instructions.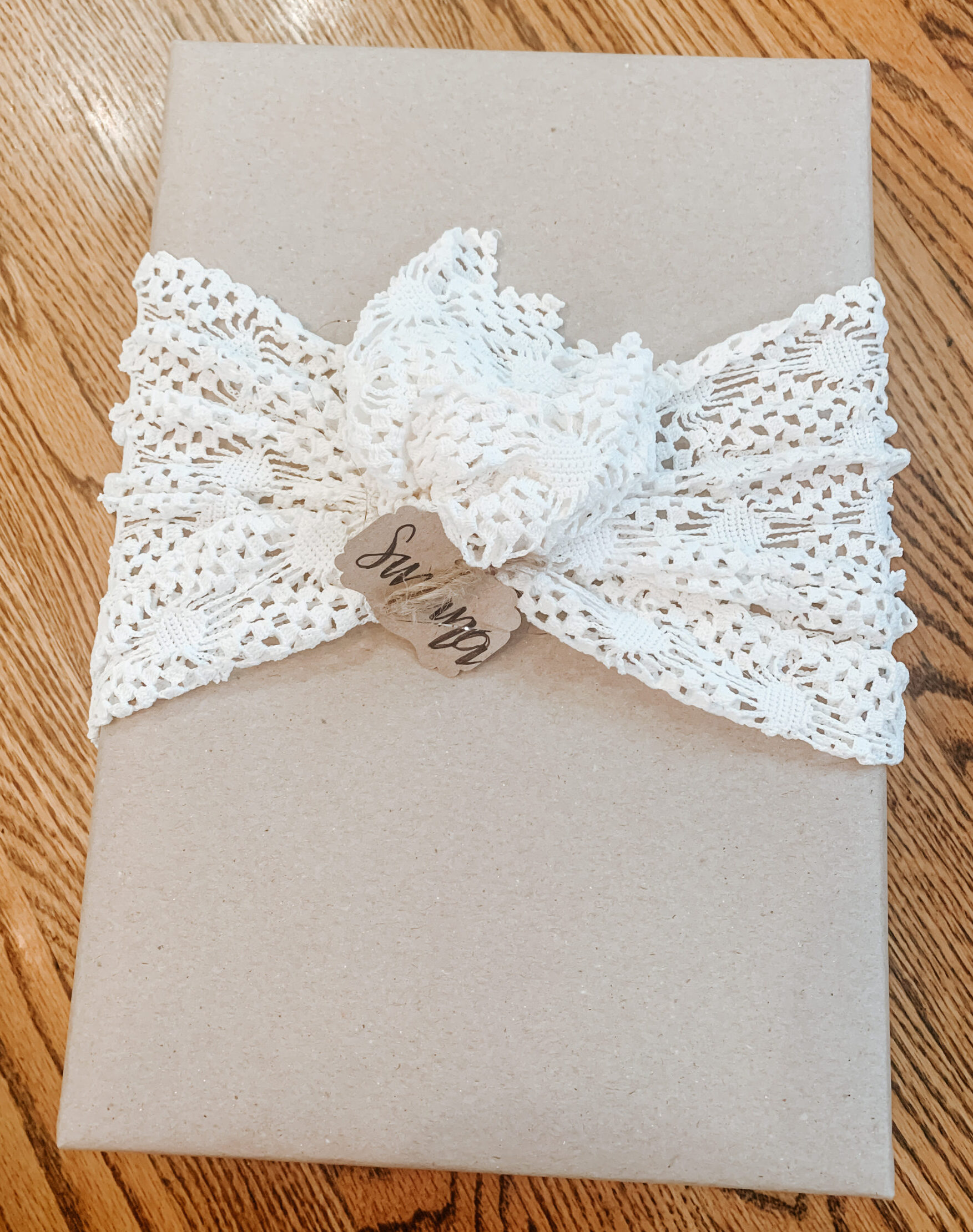 2. The cinch sack
This is probably the most time consuming technique, but it's also very simple. If your doily covers most of your package but doesn't have enough excess to gather at the top, you'll need to make a cinch sack. Put your package on top of the doily. Next, run jute through the holes at the edges of the doily. Then, pull the jute tight and voila! Your package is all wrapped up in a little cinch sack.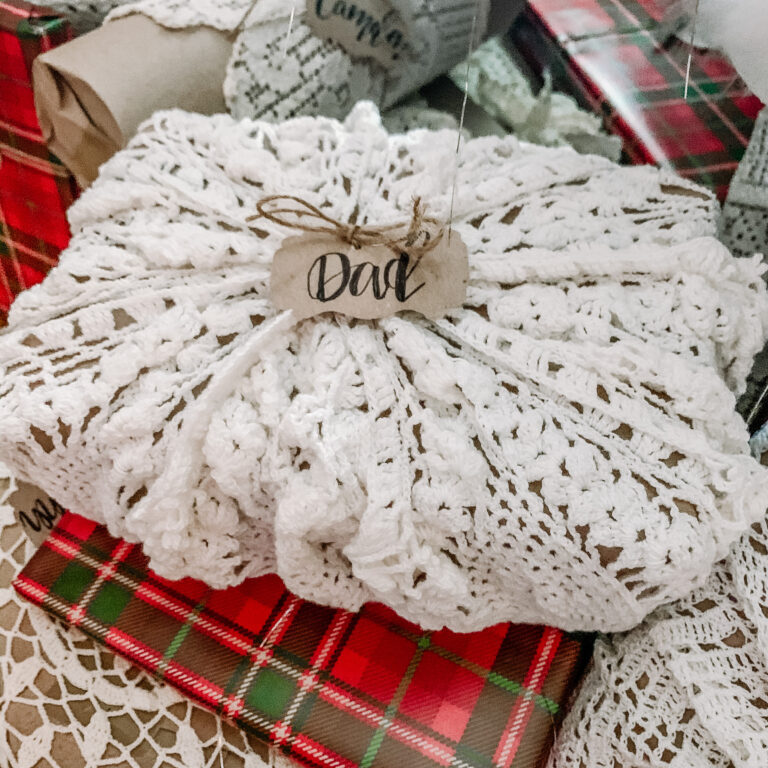 4. The topper
Sometimes you don't have a doily big enough for a wrap. But, you do have one that is the perfect size to top the gift. I love this option because it really showcases the vintage doily. That's when the topper is your best option. All you need to do for this one is run your jute through a few of the doily holes, wrap it around the back of your package, run it back through the corresponding holes on the other side and then secure it in the front with a bow. This is where ribbon would be a really pretty option.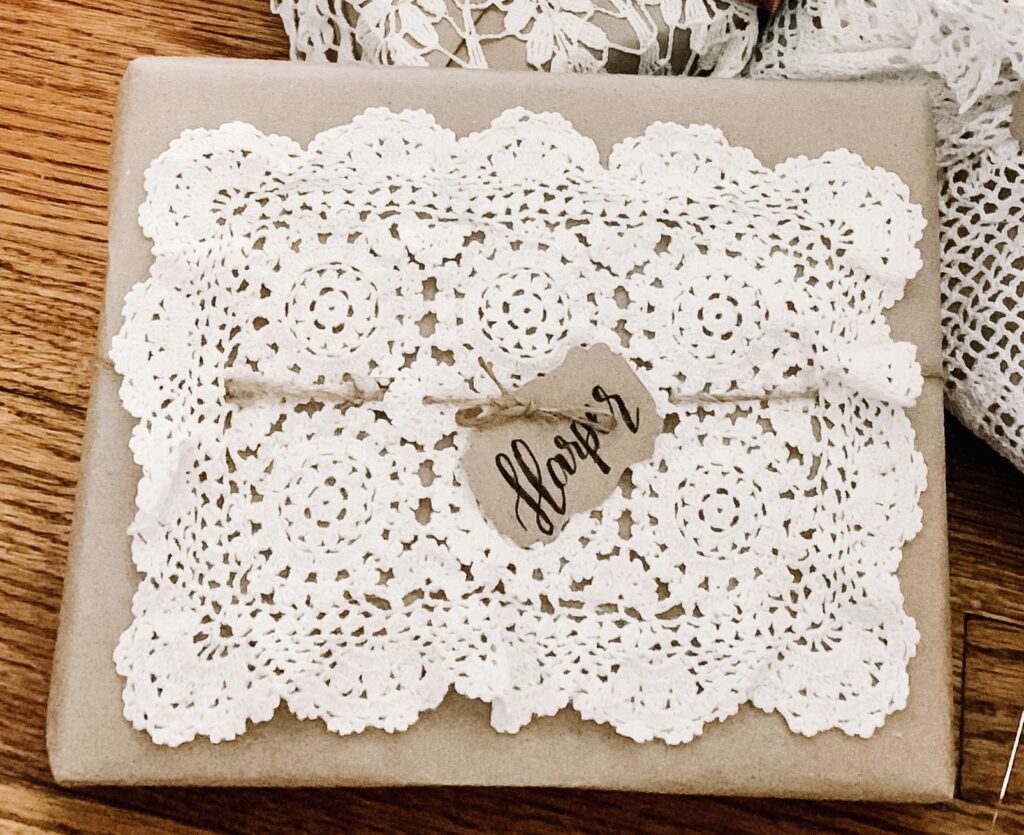 I was a little worried about using my grandma's doilies for our Christmas wrap. I thought there was a chance I might not get them back in all of the hustle and bustle of Christmas celebration. However, everyone was really respectful and made sure to return them after the gifts were opened. On Christmas morning at our house, my nephew passed around a box to collect them all. Such a sweet and thoughtful boy.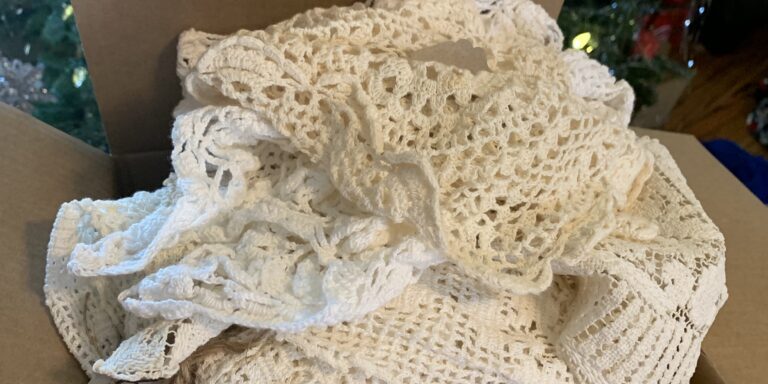 While I first used doily gift wrapping for Christmas, I fully intend to use it throughout the year. I'm especially excited to use it for Mother's Day, wedding and baby gifts. How sweet would a pink doily be to wrap up a gift for a new baby girl?
I hope you can use one of these techniques to make your next gift super special. Happy wrapping!

Wrapping the perfect package with doilies