From mystery novels to the dark works of authors like Edgar Allan Poe, books make great Halloween decor.
As much as I love decorating for Halloween, I don't love the price tag that comes with it. You can spend some serious money on Halloween decor. That's one of the reasons why old books are a staple when dressing up my home for Halloween.
Keep reading as I share my top reasons for decorating with books, tips for finding them and how to use them in your Halloween decor.
Top reasons to use books in your decor
To start off, if you're not sure that books should be incorporated with your decor, let me convince you. Here are my top three reasons:
1. Books are inexpensive as long as you don't stumble across a super rare first edition.
2. They are an easy way to add texture, color and height to any space.
3. Books make you and your space seem sophisticated. Who doesn't want to look smart?
BONUS: If you get bored, there's always something read!
Five tips for finding perfectly creepy books
1. Know where to buy. I always recommend used books over new books for decor. Used book not only have age and patina, but are usually inexpensive. Estate sales, garage sales, library sales and thrift stores are my go-to places for bargain books. However, if I'm looking for a specific title, I will head to Etsy, Ebay or Instagram.
2. Focus on titles. Look for dark and creepy words like ghost, haunted, murder, mystery, dead, plague, witch, bones, graveyard, you get the picture. The list could go on and on.
3. Pay attention to color. Of course black books will fit into most Halloween decor perfectly, but red, orange, brown, yellow, green and purple can also be worked in nicely. And, if you want to use non-traditional colors like blue or pink, go for it! As long as you have a plan, you can make it work.
4. Watch for specific authors. There are some authors that are known for their dark writing. Edgar Allan Poe, H.P. Lovecraft, Mary Shelley, Henry James and Arthur Conan Doyle are some of my favorites. Mystery novels like the Nancy Drew series and those from Agatha Christie are also great.
5. Don't forget to look inside. Some books will have interesting illustrations or chapter titles that are perfect for opening up and displaying.
How to use books in your Halloween decor
There are lots of ways to use books to creep up your space for Halloween. Here are some of the most common ways, along with some inspiration photos.
The easiest way to decorate with a book is to simply open it. This is a great option if you only have one book in your creepy collection. Here's an example of a book I used in my house - The Greek Coffin Mystery. I picked up this book for $1 at an estate sale. I love how the pages are perfectly aged so they contrast nicely against my creepy cloth. Speaking of creepy cloth - you can pick it up at the Dollar Tree. I use it all over my house at Halloween.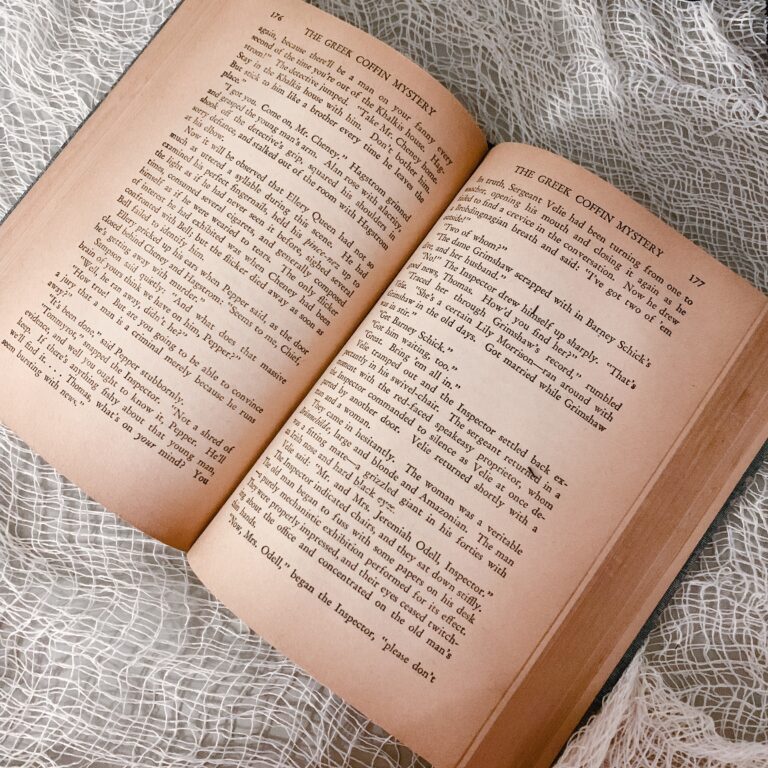 Book stacks are perfect for adding a little height. I you have good titles, I would suggest displaying with the spines out for all to see. This dark and creepy stack of books is from one of my favorite Instagram book sellers, @tatteredstacks. I would highly recommend giving her a follow if you want to be inspired or if you are interested in buying a stack of curated books.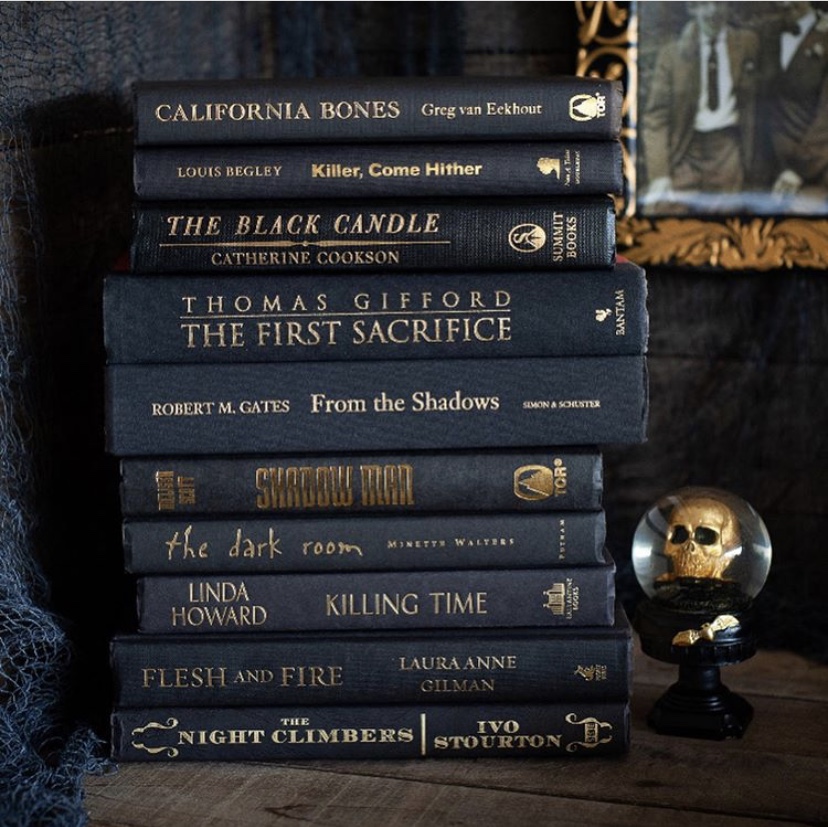 While that stack is impressive, don't be discouraged if you only have a few books to start with. Here's a cute little stack of two that I have displayed in my dining room.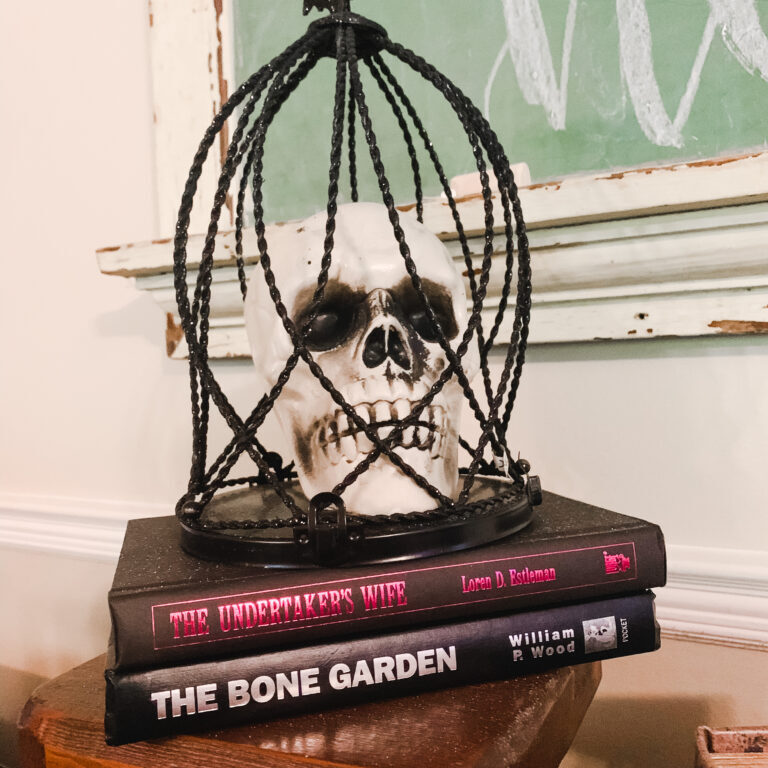 Lining up your creepy finds with the spines out is a great option if you have a larger collection. This is another great collection from @tatteredstacks. It would be perfect on a mantle or a long shelf. Guess where you can find skeleton hands. The Dollar Tree, of course.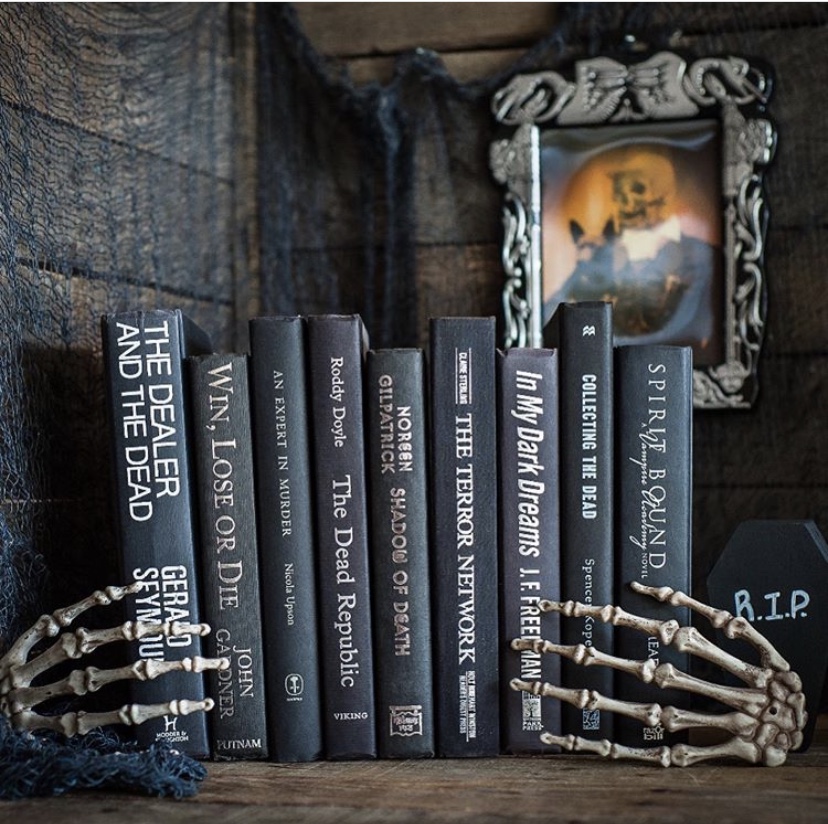 Books are great to add a little height and dimension. Load them up with seasonal florals, spiders or skulls. Be sure to display the spine out if you have a good title. This is also a great option if you have a single book to display. I used a copy of The Mayfair Murder in my living room with some fresh marigolds for a little nod to Dia de Los Muertos.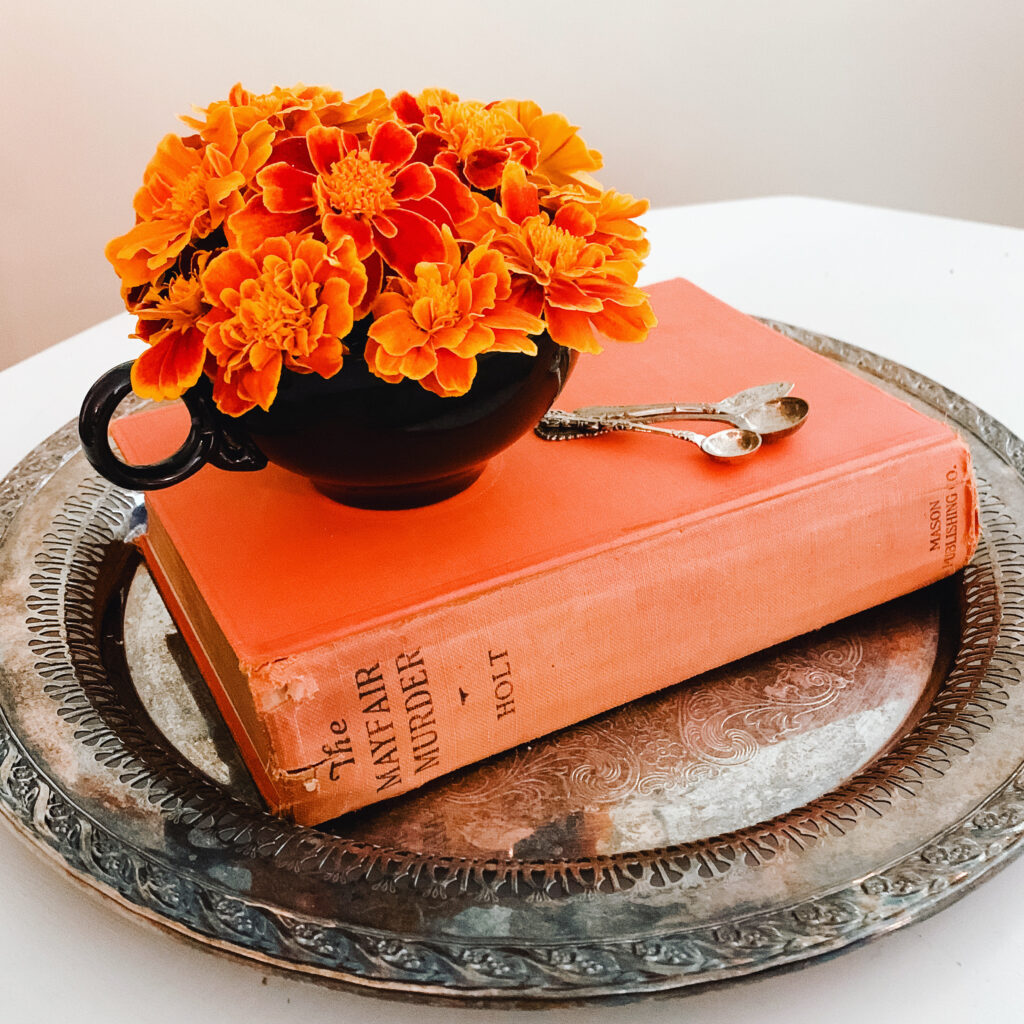 Here's another stack that has some pretty florals on top. The Hilltop Murders really shines in this display. The bottom book, Laughing Gas, has a fun title, but not a Halloween theme. But that's okay because it's orange, so it works.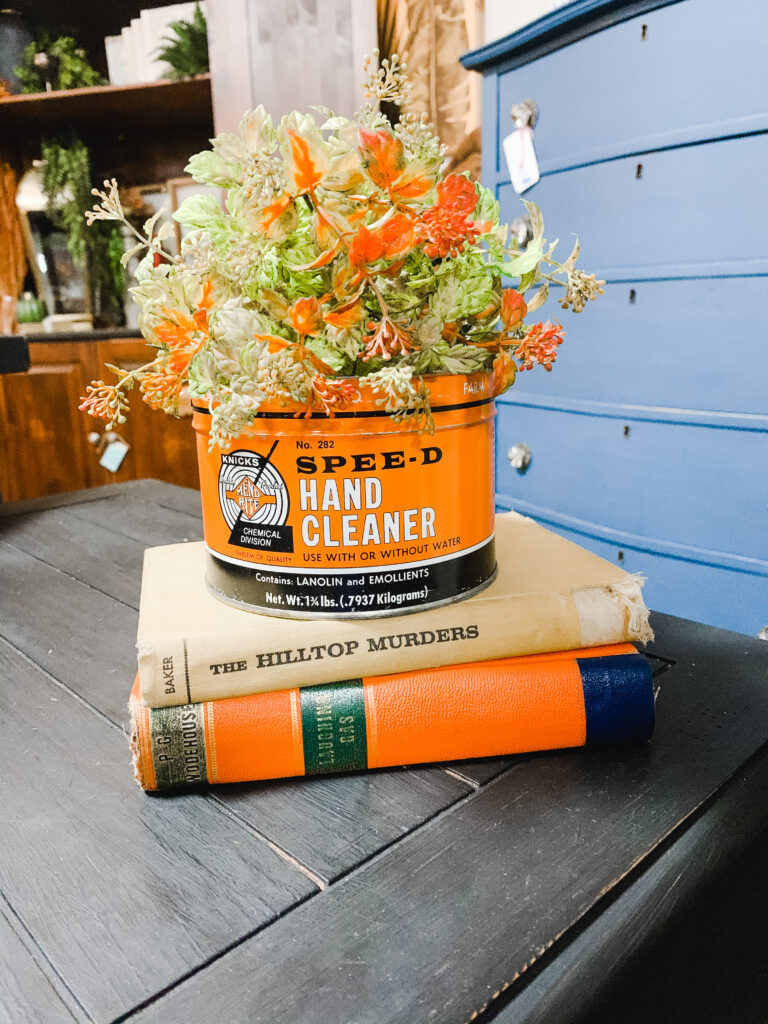 Let's face it, black lace can be creepy. Wrapping a little black lace around a single book or a stack of books will make it look like the mourning widow that haunts the graveyard.
It's also a great way to salvage a coverless book. I found this Edgar Allan Poe book and the cover had been ripped off. Instead of trashing it or using it as a book for crafting, I got out my lace and made it pretty again. Pair it with a black book, a silverplate tray and bittersweet for a beautifully creepy look.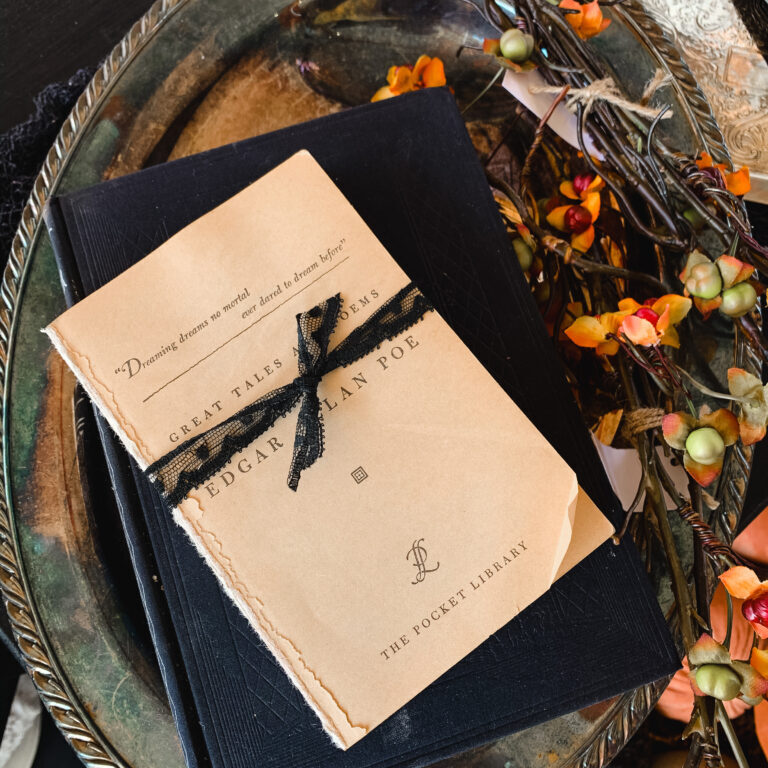 Now you know what books to look for and how to use them. Have fun making your space look creepy, cooky, mysterious and spooky. Happy Halloween friends!
How to use books for creepy and cute Halloween decor